We're delighted to reveal our new brand – Breedera! And launch our new app, rebuilt from the ground up after two years of collaborating with breeders from around the world.
We've spoken to breeders just like you to create an app that's designed to give you peace of mind that all essential breeding records, health history and buyer information are in one easy-to-access place. 
Our mission is to reduce admin overwhelm and make managing essential breeding records easy and rewarding.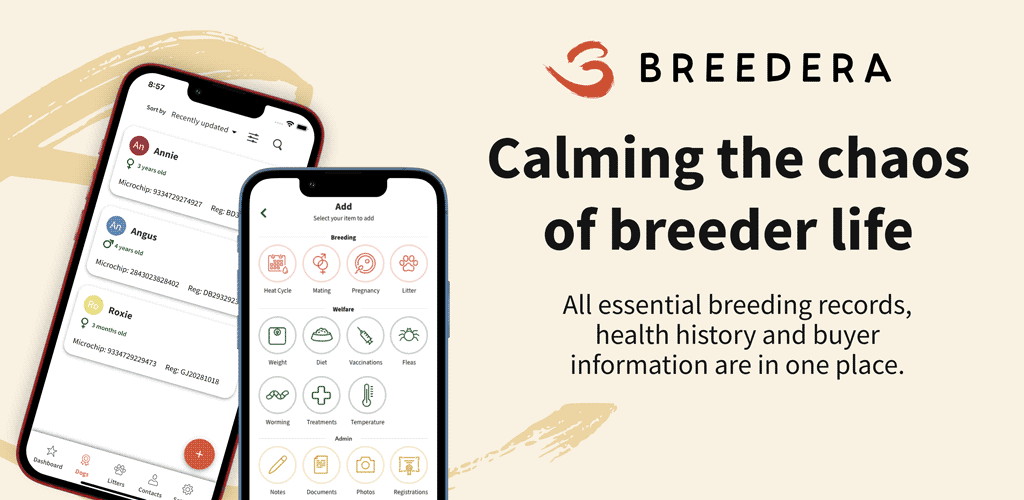 Brand new breeding tools.
Predict and calculate your most important breeding dates with our new Heats and Pregnancies Dashboard with smart heat cycle estimation, whelp date forecasting tool and gestation countdown.
Find exactly what you're looking for in a few taps with our advanced search, sort and filter options.
All the features you know and love.
Track weights, feeds and treatments, print and share records with your vet and much much more…
All your favourite PuppyFat features are still here, but designed to make it even easier to get on top of breeder admin.
Plus lots more to come in 2023…
We're collaborating with breeders from across the globe to make sure every aspect of Breedera is designed to suit the unique lifestyles of the dog breeding community.
This means even more exciting stuff is planned for the rest of 2023 and beyond.
Below is a message from our Founder and CEO Mike White, about the journey from PuppyFat to Breedera.
Hi I'm Mike, the Founder of Breedera
I've always been passionate about animals. And I was lucky enough to work in my family's veterinary equipment business, where I got to talk to all kinds of animal lovers and specialists.
But, one group of customers always stood out to me – dog breeders. I was amazed by the pride and passion of responsible breeders and quickly became curious about what it's like to live that lifestyle.
As I spoke with more breeders, I noticed one thing was taking up a lot of their time – admin. Many tracked their dogs' health with pen and paper or – at best – massive spreadsheets.
I knew I had to do something to help.
I met Chris, an experienced and skilled technical developer, and together – with a lot of grit and determination – we launched the earliest version of our app – PuppyFat. A simple weight-tracking app that became popular with a small community of forward-thinking, ethical breeders.
This fast-growing group of breeders helped shape Breedera into what it is today, giving hours and hours of their precious time for interviews, user testing and feedback.
Through this, we began to understand how we could not only improve the app but become a brand that provides something much bigger than just puppy weight tracking.
A brand that could provide real relief from breeder overwhelm.
Over the last two years, we've been working hard to create an app that reduces admin overwhelm and makes managing your essential breeding records easy and rewarding.
I can't wait to hear from you about what you think and how we can continue to help you get back to what you love most – caring for the wellbeing of everybody's future pets.

What does this mean for PuppyFat users?
All PuppyFat users need to move over to the brand new Breedera app. Moving over to Breedera is easy, and there's absolutely no risk to your data. Everything is securely backed up in both the old PuppyFat and the new Breedera cloud. So if it looks like anything is missing from the data migration, get in touch, and we'll find it for you. To find out more, visit our FAQs page.