Calming the chaos of breeder life.
Breedera gives you peace of mind that all your essential breeding records, health history and buyer information are in one easy-to-access place.
Track weights, feeds and treatments
Plan heat cycles and estimate whelp dates
Print and share records and charts
---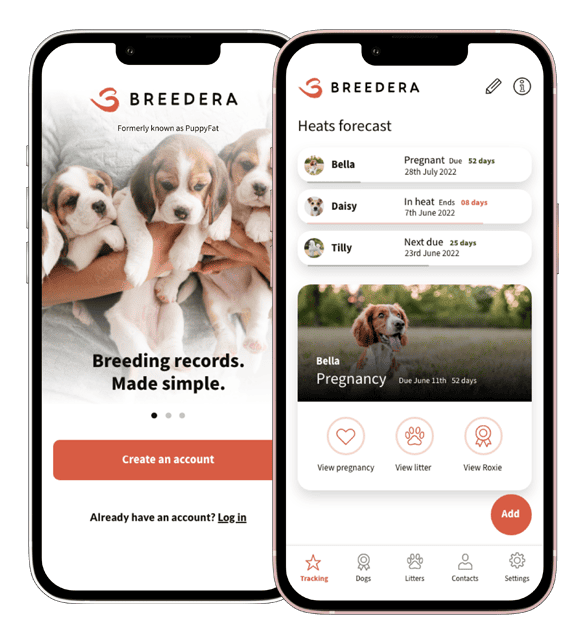 You never became a breeder to fill out paperwork.
Bringing puppies into the world is a rewarding, joyful and remarkable experience. But we know the moment you become a breeder, every aspect of your life changes.
It's goodbye holidays and free time, and hello to being constantly on-the-go 24-hours a day, 365 days a year.
After spending four years working with breeders across the world, we've never met one that got into it because of their love of admin. Whether your main motivation is to create healthy, happy pets, to improve or conserve a breed or to raise the next great champion, the one thing that unites us all is the joy of dogs. Not the joy of spreadsheets.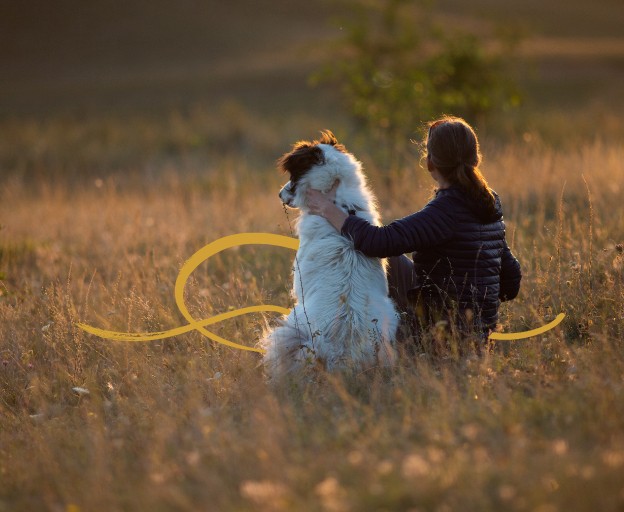 We reduce overwhelm so you can…
Focus on what you love.
Spend more hours with your dogs and less time filling out spreadsheets and digging through paper files.
Add records quickly while you're on the go and easily monitor puppy health and growth with interactive charts and graphs.

Get started for free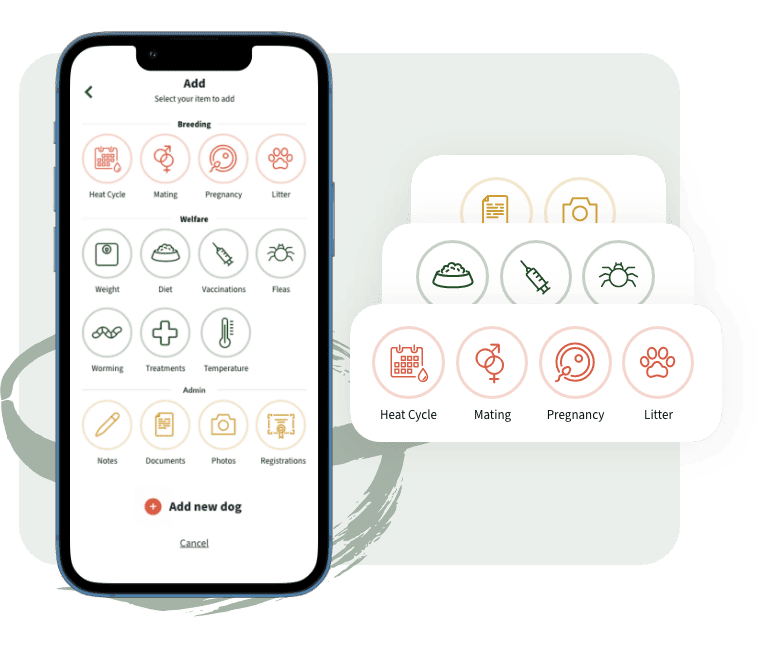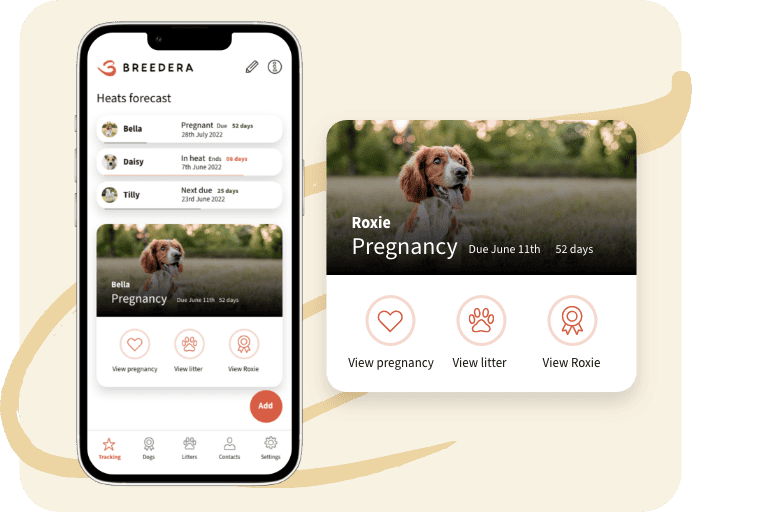 Feel organised and in control.
Track and monitor all your dog and puppy weights, treatments, vaccinations, health tests, documents and more in one central, secure place.
Predict and calculate your most important breeding dates with our smart heat cycle estimation, whelp date forecasting tool and gestation countdown.

Get started for free
Share what you're proud of.
Generate professional health reports and graphs to export, print and share with vets, licensing bodies, puppy families and other breeders.
With Breedera, you can demonstrate the full health and family history of every one of your dogs in digital and paper format.

Get started for free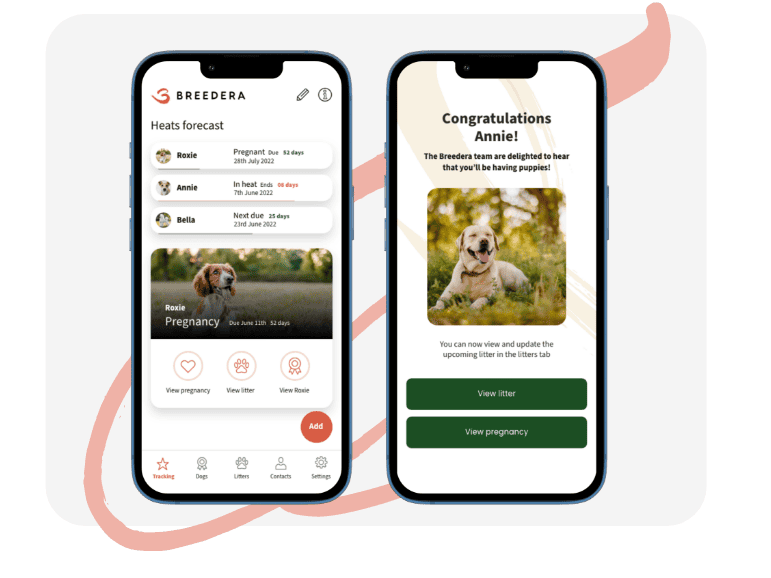 Be part of our growing community.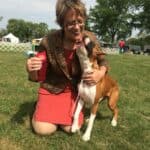 "This is an amazing app that all breeders should use!!"
---
Terri Underhill – Winstar Boxers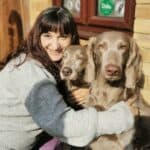 "Superb app, always evolving and improving, taking feedback seriously and with excellent support. The future for breeders!"
---
Nina Fotara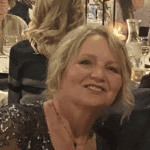 "I love the ability to track the puppies and compare weights with their siblings. THANK YOU!"
---
Dayna Latham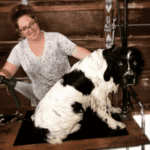 "I rely so much on this amazing app! Keeps me organised and on track!"
---
Rita Adams – BearPaw Newfoundlands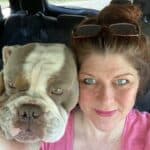 "Love love love the app. I would be lost without it!"
---
Angela Sensing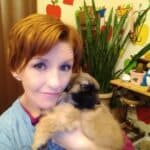 "Thanks for caring about how productive an app can be and doing everything possible to improve it every chance you get."
---
Amanda Metz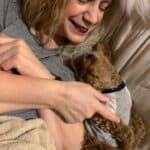 "Had an amazing litter and the app made things so easy to manage."
---
Kyara Tollan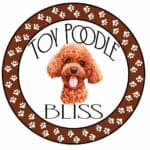 "So easy to use, has all the info we need to keep track of our breeding program."
---
Anna
Toy Bliss Poodles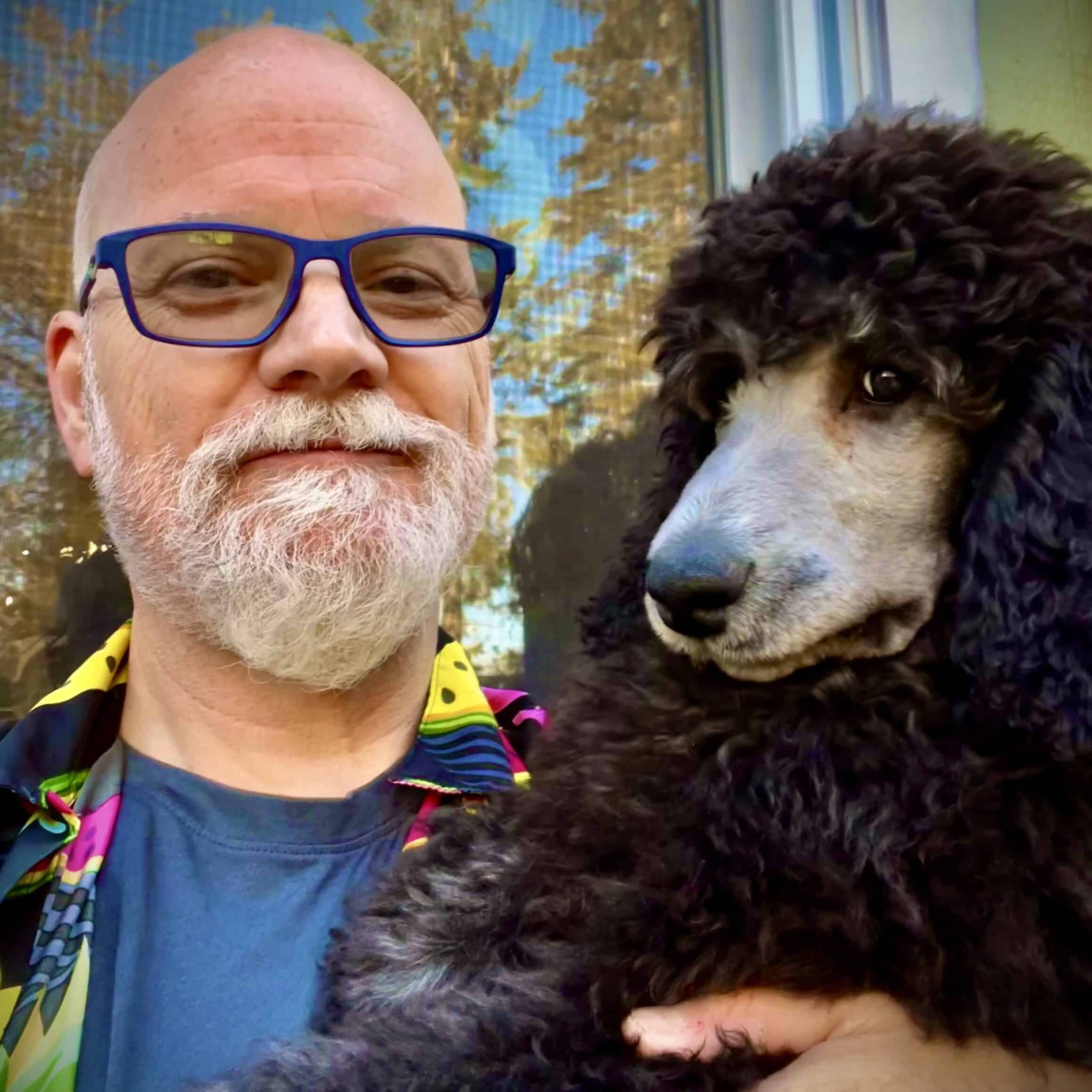 "This app has everything a serious breeder needs…. Easy to use, concise and a joy to work with"
---
White Dove Poodles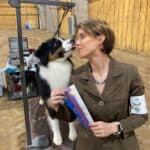 "PuppyFat is an amazing tool in the breeders toolbox, with loads of client support and regular updates, bug fixes and new features! Strongly recommend!!"
---
Jessica Smalley
A load off your mind…
Award winning breeder software.
We are delighted to announce that we recently won the 2023 Business Awards UK Pet and Animal Care Award.

Backed by breeders.
Breeders from across the world collaborate with us to ensure every aspect of Breedera is designed to suit the unique lifestyles of the dog breeding community.