PuppyFat founder Michael White joins breeders June Eyre and Kate Vennables to talk about the unsung heroes of pet care – breeders!
As part of the February 2022 Unleashed Talk Series by the Purina Accelerator Lab, Michael, June and Kate discuss why breeders are probably the most important stakeholders in the pet industry.
PuppyFat is an Alumni of the Unleashed Accelerator, which is the first and only pet care specific accelerator programme with a focus on Europe.
Over the last two years, 12 pet care start-ups have been accelerated by Unleashed, working with a team of Purina experts, to help drive their growth. The goal is to provide advanced nutrition, health and wellness services, as well as new digital solutions to pets and their parents.
Aimed at pet care companies, the webinar on Thursday 24 February debunks some of the misconceptions around breeders and reveals why the role of breeders is so important to the industry.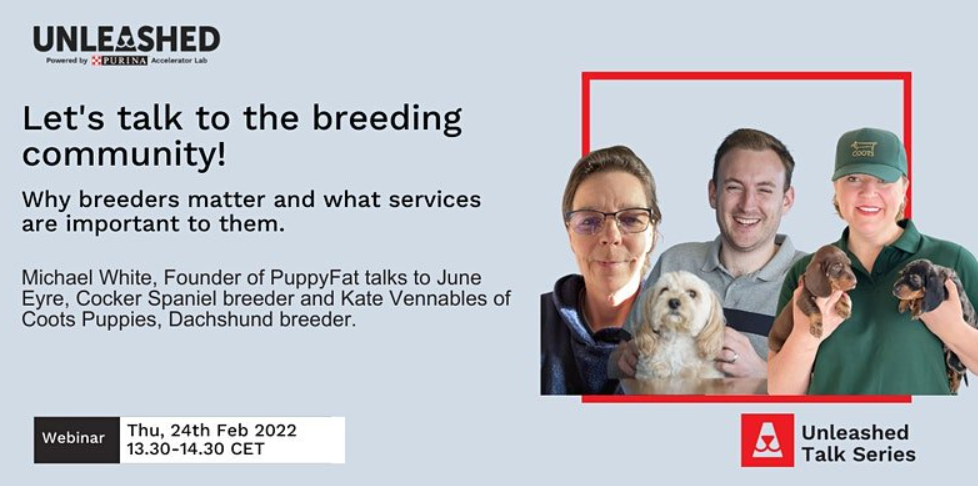 The Panel:
Michael White is the Founder of PuppyFat, a software application that lets breeders log their records quickly; store their records securely, and share them seamlessly with vets and future pet owners of their animals. The platform helps breeders to maintain a complete record of every animal, its history and its lineage; instantly available, whenever it's needed.
June Eyre is a Cocker Spaniel breeder with a wealth of breeding experience, spanning more than a decade. She's on a journey of continual improvement with the aim of producing ever-better, healthier, happier pets for loving families.
Kate Vennables of Coots Puppies has been breeding Short & Long Haired Miniature and Standard Dachshunds since 2020, following a life-long love of the 'sausage' breeds. Having made a commitment to do the very best by her dogs, and their offspring, Kate is incredibly knowledgeable about the best practices of breeding.
The webinar takes place 13:30 – 14:30 CET on Thursday 24 February 2022.
Find out more and register for the webinar here.